The global
big data market size is expected to reach USD 72.38 billion by 2022
, according to a new report by Grand View Research, Inc. The amount of data flowing across organizations, both small & medium and large-scale has witnessed immense growth over the last few years, and the trend continues. However, managing, identifying, and extracting valuable information is a challenge.
Evolving consumer demand and contracting budgets put considerable pressure on organizations to the make the right decision to achieve competitive advantage. The big data market is expected to witness growth since it is an easy solution to overcome the given situation and ensure efficient accessibility.
Social media is considered one of the major contributors to demand. Data generated by numerous social media interactions (generally in unstructured form) is considered a veritable source of critical business information. It helps better understand customer behavior, customer satisfaction, and purchase patterns.

Europe big data market by application, 2012 – 2022 (USD Million)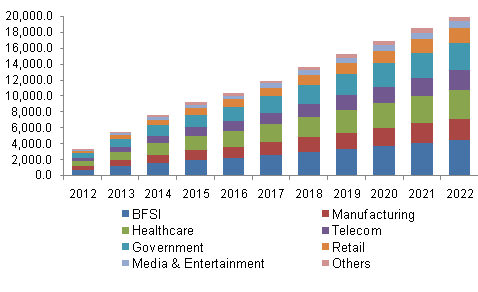 Cloud computing and mobility are expected to sweep over the business landscape and transform the traditional way of doing business. Cloud is becoming a ubiquitous storehouse of data while mobility is improving collaboration and connectivity among enterprises, irrespective of location and time, facilitating the seamless exchange of information.
Further key findings from the study suggest:
Software & services segment is poised for significant growth. Surging demand for several business intelligence and analytical tools is expected to be the primary factor driving the segment growth over the forecast period.
Big data market penetration into the BFSI and retail sector is higher owing to growing need for monitoring consumer buying preferences. Retail sector is expected to witness rapid, which may be attributed to rise in number of customers and increasing need for analysis in order to design a marketing plan.
North America big data market size may be attributed to high penetration across the IT & telecommunication, BFSI and retail sector. Further, technological advancements and emergence of IoT is also expected to fuel regional demand over the next seven years.
Key big data market players such as IBM, Cloudera, HP, and Oracle are focusing more on providing customized analytical solutions based on the end-user requirement. Industry players bid to capture share through continuous R&D efforts.